Are you looking to paint your house and give it an updated, fresh look? Enhancing curb appeal is relatively easy, and paint is the least expensive facelift you can do in a short period.
Looking for inspiration? There are many hues in the colour palette to choose from, and pairing the right colours makes all the difference. Here are the eight great outdoor house paint ideas:
Paint Idea #1: Deep Natural Colours
Some homes benefit from the deep colours found in nature. These warm greens and browns fit the forest environment and look like your home grew out of the ground. There are many excellent Benjamin Moore outdoor paint colours in deep natural shades, such as blues and greens. These options will complement your exterior home's appearance.
Using a two-tone olive or shades of green brings a calming presence to the neighbourhood and makes you feel relaxed as they balance with the surrounding foliage. Earth tones are among the latest trend today and go well with smaller homes, so use the great outdoors as your guide.
Paint Idea #2: Red & Black
This standout combination will instantly catch your eye for all the right reasons. Red is one of those classic colours that stand the test of time when paired with black accents, shutters and doors. It is striking and enchanting at the same time.
Finish off all your trim with white to frame the rich colour palette. You have created a picture-perfect cottage feel that will work in almost any setting.
Paint Idea #3: Shades of Blue
Bringing in the sky and water makes your home inviting, and using shades of blue on a large home is ideal. Sky blue is bright and appealing, and it works well in photos for resale too. If your home is in a waterfront setting, all the better to catch the colours of your surroundings.
White trim around your blue shades makes them pop and bring a stately elegance to your home so mix two tones of blue and enjoy the contrast that looks great in all seasons.
Paint Idea #4: Farmhouse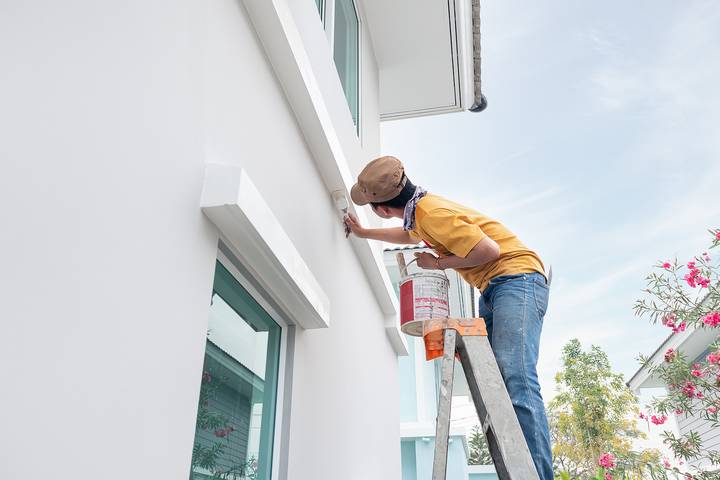 Do you have a home on some acreage? Maybe you do a little hobby farming or modern homesteading. Either way, your home's exterior can match your lifestyle in a big way.
Use lighter earth tones for your main colour and go bolder on the trim and other accents. White is your classic farm colour, and the brighter, the better. For a more rustic farmhouse, use greens, light blues and yellows and trim with exposed wood for that down-to-earth feel.
Paint Idea #5: Blue & Gray
Gary is a neutral tone that pairs well with light blue on the exterior of your house. They look great together on siding and stucco and compliment brick, too, so use it in contrast to white trim and accents like railings and shutters.
Paint Idea #6: Tudor Style
Do you love the classic Tudor colours of dark wood and light walls? This is popular, but you don't have to live in a medieval residence to implement these colours.
Use a white or cream wall cover with dark brown trim and embrace the Renaissance traditions. You can flip the pallet and use dark paint for the walls while using light accents for the trim, shutters, windows and doors. Consider opting for dark blue instead of brown to change it.
Paint Idea #7: Berry Shades
Do you want to stand out? How about choosing from the berry family? Berry colours are fun and popular because they make a statement. You can use bolder tones or cool it down with pale shades, but either way, it is a vibrant choice. Consider violets, crimsons, reds, yellows and greens for a fruity, fantastic feel.
Paint Idea #8: Tropical Tones
Get the island vibes going with tropical colours that turn your home into an oasis. Powder blue, soft pinks and orange are perfect, as well as coral, fuchsia, tangerine and canary yellow. These sun-drenched colours bring life to your exterior walls and make it an inviting place to come to.
Consider what your house exterior is. For brick and stucco, you will need paint designed for textured surfaces. You can also use a colour wheel to help match up contrasting colours. Always buy high-quality paint because you want it to last.
If you are taking on the task yourself, you will need all the right equipment, including:
Press washer
Paint scraper
Sandpaper & sanding block
Epoxy filler
Putty knife
Exterior calking
Roll of plastic sheeting
Paint sprayer
Rollers
Extension poles
Extension ladder
8' step ladder
Paint brushes
Painter's tape
Drop cloths
Make sure to pressure wash and repair walls, trim and roof overhangs. Before you paint, you must protect sidewalks and cover all trees, bushes and poly off the window, doors and exterior accessories. Then you can go about painting your home.
Choosing the right colours for your home's exterior can be tough, and with so many options, you can get lost in the planning fast. Drive around your neighbourhood to see what homes catch your eye, and use these exterior house paint ideas to narrow your decision. Once you have chosen, go confidently with it and transform your home with amazing colours.