Nothing says a warm summer afternoon like relaxing by the beach with a drink while the children dig holes and build castles. Summertime is the ideal time to daydream about tropical vacations, sunsets by the ocean, pineapple delights, and bright yellow sandals. It is also the perfect time to gift family, friends, or yourself a beach-themed gift basket.
Gift baskets are a great way to show your love and appreciation: you did not just think about them once. You thought about the number of times there are gifts in the basket! They are among the most thoughtful gifts you could give to others.
Maybe you are heading to the beach for your wedding and would like to give a beach-themed gift basket to your maids of honour. Perhaps you are heading out next weekend with your friends and thought they might appreciate a little pick me up.
Here are seven quick and easy beach themed gift basket ideas:
Idea #1: Sand essentials
The three guarantees in life are death, taxes, and sand at the beach. So, what else would you include in the perfect beach-themed gift basket other than the essentials you need for the sand? A cute beach towel or a pair of sandals would be my first go-to.
Try including a frisbee or a set of waterproof playing cards for activities. If the recipient has small children or loves sandcastles, add a plastic bucket and shovel. Perhaps they are more into the water— not a problem. A snorkelling mask and tube, some water shoes, or a waterproof phone case could be the perfect additions!
Idea #2: Picnic essentials
Not everybody goes to the beach to explore the sand and water. Many people would rather listen to the ocean's waves rather than swim in them. To help those kinds of people relax at the beach, pick some picnic essentials for your gift basket: a picnic blanket, wine glasses, a charcuterie board, etc.
To spice it up, you could use a picnic basket as the gift basket, but more on that later. Provide a tumbler or water bottle to ensure they stay hydrated, and buy them your favourite book to enjoy under the sun.
Idea #3: Snacks
Snacks are excellent beach themed gift basket ideas. After all, what is a picnic without snacks? If you know for sure, they are going to the beach soon, you could pack some fresh fruit, a charcuterie board complete with meats and cheese, some fresh homemade pasta, or any other food you think they would like. If you are not certain, include some crackers, chips, sparkling water, soda, gummies, popcorn, or chocolate.
Idea #4: Hygiene essentials
Although the beach is a prime spot to get your relaxation, it is also a breeding ground for bacteria and infections. Keeping your recipients safe is a great way to show them that you care about their fun and health! Include a pack of wipes for their face and hands, some full-size or travel-size hand sanitizer bottles, some soap or scrubs to use afterwards (bonus points if it is ocean scented), or even a small hair brush.
Idea #5: Sun essentials
You can not expect somebody to go to the beach without being prepared for the sun! The sun is a powerful; entity, and like hygiene essentials, protecting somebody from the sun can show that you care about them. Include a pair of shades to protect their eyes— you could make their heart or star-shaped for a little twist. Some sunscreen or a large sun hat can go a long way when protecting the skin.
Idea #6: Candles
A candle is an amazing choice for them to remember the beach even if they can not be there. Going home from the beach is a sad moment: you are leaving the sunshine and sand to go back to your home office and desk. To keep the beach spirit alive, including a scented candle that reminds them of the beach so that the next time they are on a work call, they can daydream about the next time they will be dipping their toes into the ocean.
Idea #7: Beach items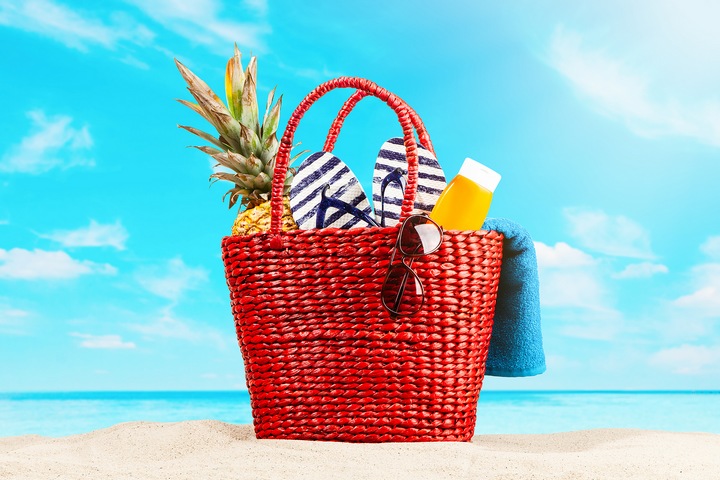 Finally, include many beach items in your gift basket. Many options work for a beach-themed gift basket. A beach tote bag would be a practical yet appropriate option. To become even more functional, you could store everything in a cooler bag to ensure their cheese and meats stay cool.
Now that you have read the gift basket's contents, it needs to be complete with themed decorations. Your local dollar store should have everything you need: seashells, blue tissue paper, fake crystals and gems, a beach-themed card, and some sparkles!